Are you in a need to gift your boyfriend but you are on a tight budget of Rs 500? Whether the gift is for Valentines, Christmas or his birthday. Finding a present for your man could be tricky and be very well be brain wrecking. Maybe he needs something which you are simply not aware of or you want to gift him something unique to remember you by. Well, whatever the case maybe, take no worries cause we are here to help you with our top 10 picks for gifts you can buy under Rs 500 for your boyfriend which will please him no matter what's the situation is.
You want to give him something that he's actually going to keep and use thinking of you in mind. The idea is you want him to feel that he's loved by getting something keeping him in mind. If you've just started dating or been a couple for years, the below guide will help you select the perfect gift for your relationship which you can buy just by sitting on your desk chair. We've rounded up some of the coolest awesome gifts for your best man that will give the reaction on his face you've been urging for.
1. Philips SHL5000/00 On-Ear Headphone with Deep Bass
Is your boyfriend a music lover? (Oh common who isn't?) You've seen him with a headphone wrapped around his neck like a couple of times but not recently, maybe his headphone broke and stopped working and you have this perfect opportunity to gift him one. Even if it's not broke but is getting pretty old with all the scratches and dust between the spaces. This may be the best bet to go for.
Price- Rs 499
2. Fashion Freak Genuine Leather Bi Fold Black Brown Wallet
A good quality wallet also maybe the present you are looking for your boyfriend who has been using a pretty old damaged wallet. Well, you know how rough guys can be with their things. The next time he takes out his money out of his wallet to buy something he will think of you. This could be the ideal birthday gift or anniversary gift for your boyfriend.
Price- Rs 499
3. Fogg Impressio Scent For Men, 100ml
Many people feel that the sense of smell is strongly tied to memory and emotions. The fragrance is a personal choice and finding the right perfume for a gift could be time-consuming. Giving a person a gift of perfume is an intimate gift that is also practical. No matter what scents appeal to the recipient, there is a perfume that will match their preferences. Here is our choice of perfume you can go for while blind folded.
Price- Rs 411
4. Swiss Military Black Keychain (MT-1)
Gifting a keychain can be sweet and memorable not to mention very handy at the same time. While this could be the gift your boyfriend has been longing for. If it's used for bike keys, car keys you will be remembered every day of his life!. This could be the key to your ever long lasting relationship. We have selected this key chain cause it is really handy coming with a Key Ring, Medium Screw Driver, Bottle Opener, Small Screw Driver, LED Light, Phillips Screw Driver, and a Knife.
Price- Rs 440
5. Relish Casual Analogue Tan Leather Strap Dial Men's Watch
Men are simple beings but when it comes to watches they are really complex and picky about the looks and material. Personal taste influences greatly when selecting a watch. When gifting a watch better go with the crowds choice if you have no idea what kind of watch your man prefers. Here we have selected one classy looking casual watch encased in a protective stainless steel metal bezel ensures durability.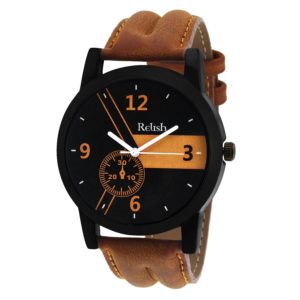 Price- Rs 325
6. Graceway Unisex Adult Wool Gloves
Winter is just around the corner and the perfect present you could think of- Woolen Gloves! This gift will serve your boyfriend well with cozy warm feelings while wearing them.
Price- Rs 399
7. Huntsman Era OBEY Snapback Cap
Does your guy looks good in caps? Is he the sports guy that often needs a cap to protect him from the sun. Then here is an option to take into consideration. Give him this "OBEY" Huntsman cap to keep him under your spell. This gift could be the pleasant surprise for your boyfriend.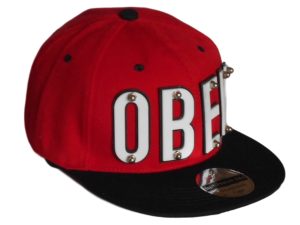 Price- Rs 499
8. Philips SPA-50 2.0 speaker with USB Plug (Blue)
Having a tech enthusiast for a boyfriend can sometimes be a pain but relatively choosing a gift can be fairly easy. Get this Philips speaker which has a decent bass and sleek looking 2.0 speakers that will enlighten your boyfriend's desk further and he will definitely appreciate it.
Price- Rs 499
9. Unistar Men's Sneakers
A good pair of shoes can be another decent choice for gifting your boyfriend. "Shoes Makes The Man" this saying is all the more reason to consider picking up these quality shoes for your man. Check out these sneakers which will look good in jeans and white summer pants.
Price- Rs 499
10. Polo House USA Men's Sunglasses
First of all does your boyfriend go out much? How about gifting him some cool shades? Polo House USA Men's Sunglasses comes with UV Resistant coating over the outer material plastic with different colour ranges to choose from.
Price- Rs 489
Special mention –  You can create an account in CashNGifts and collect points to Gift your Boyfriend a gift card of your choice for free! with that he can buy any gift he wants.
Hope you have liked this article and if you want us to come up with any specific topic, any feedback you can always write us on below email address:
support@cashngifts.in